Meet Emma Redshaw MCIPD, HR Recruits North West Recruitment Specialist
July 26th 2016 | Posted by phil scott
Meet Emma Redshaw MCIPD, HR Recruits North West Recruitment Specialist
Give us a 30 second overview of your career so far:
I have worked in HR for 14 years, starting at Administrator level working for the Prison Service before moving into the Healthcare and charity sector in mid-level HR roles. Over the past 5 years I have worked in senior HR roles most recently in a fast paced global pharmaceutical organisation, before making the career shift into specialist HR Recruitment. I completed my Postgraduate Diploma in Personnel Management and Development in 2010 and am a Chartered Member of the CIPD. I also have a CIPD recognised qualification in Employment Law.
Why the change from the world of HR into HR Recruitment:
I have always been career focused with a true passion for HR and have worked tirelessly to build my experience, credentials and reputation within the industry. However, becoming a mother gave me a new perspective, my maternal instinct kicked in and I wanted a career that gave me a good quality of work life balance. I enjoyed and excelled at supporting organisations to implement HR Information Systems, however this kind of role is very fast paced, time sensitive and requires a fully committed individual who wanted to work away for 3 nights a week, whilst working 50-60 hour weeks, and I just didn't feel that I could give my all to this career path now that I was a mother.
After considering multiple alternative career choices, I decided that working at HR Recruit was the right move for me. Leading on the HR Recruitment for the North West at HR Recruit allows me to balance my home life, continue to utilise my HR skills and knowledge and is a new challenge that will provide me with career development options.
What are 3 words to describe HR Recruit?
Professional, bespoke, committed
What roles do you recruit for?
I recruit for all roles that fall under the HR umbrella from HR Administrator through to HR Director Level. I focus on the North West Region and so have a good local understanding of pay scales, geographical knowledge and the local market.
What is on your wish list for the next 10 years with HR Recruit?
I want to become the leading HR Recruitment Specialist with a credible and professional reputation for providing exceptional customer service, sourcing the best candidates in a well-structured and timely process and hopefully, in time, own my own successful franchise of HR Recruit.
How do you balance your life between your career at HR Recruit and your family?
I have the flexibility to balance my own hours and work from home when needed. I find many candidates prefer interviews in an evening due to work commitments, so when I work in an evening I take a couple of hours back during the day to spend time with my son. My new career means I don't have to spend multiple nights away from my family and spend long days and weekends travelling internationally so I finally have the work life balance I desire and a career that I enjoy.
Quick Fire Round – 3 questions in 30 seconds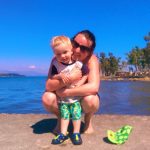 1. What is your personal philosophy?
Live, laugh, love.
2.  What's one thing you couldn't live without?
My family.
3.  What is the one thing you cannot resist?
Prawn Crackers.